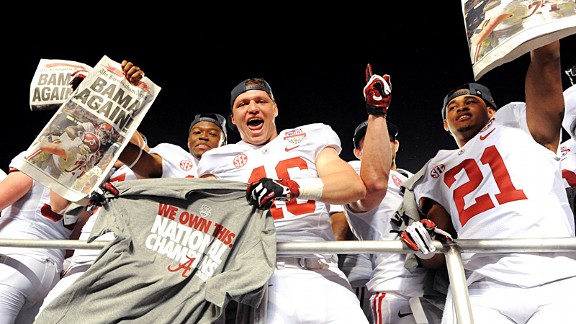 It probably didn't take Nick Saban long to start thinking about a third consecutive BCS Championship.
If Alabama does pull off the legacy-defining accomplishment, the Crimson Tide will also claim the final BCS crown.
Starting with the 2014 season, the 125 Division I football teams will try to win a national championship through a Final Four playoff.
But before we switch to this new system, it's time to do a little predicting. Here are the 10 most likely BCS Championship Game matchups for next season.
Ohio State vs. Georgia
Any team Urban Meyer coaches has a chance to play for the title. Just look at his track record.
Now consider Ohio State went 12-0 last year while ineligible and you have to believe the Buckeyes want to prove something in 2013.
Quarterback Braxton Miller is one of the nation's best players and could be a Heisman Trophy winner when the season is over. The Buckeyes will need to make some improvements on defense to be serious contenders, but don't overlook this group, as going undefeated again is a real possibility.
During the dominance of the SEC, Georgia is the elite program that hasn't been able to get to the title game.
Mark Richt's team came pretty close last year when the Bulldogs had Alabama on the ropes in the SEC Championship Game.
The defense had some big names—Jarvis Jones, Kwame Geathers, etc.—and lost a total of 14 letterwinners on the unit. While this is a huge red flag, the Bulldogs should still be a legitimate contender.
Georgia's offense will score, as the group is led by star quarterback Aaron Murray.
LSU vs. Oregon
Oregon has never shied away from opening the season with a tough opponent like LSU or even Boise State.
This season, the Ducks have a much more manageable non-conference schedule. So if they can get past Stanford, UCLA and Oregon State—and the Pac-12 title game—Oregon could be in prime position to play for a championship.
Naturally, Oregon will have to adjust from Chip Kelly to Mark Helfrich, but don't expect too much to change…especially on offense, where quarterback Marcus Mariota is back to lead the explosive group.
It just seems right to think the Ducks would have to get by an SEC team to get that elusive BCS crown, and LSU would be a good match up.
The Tigers seemed to lack that X-factor last year that made them an elite team in the past. But given that Les Miles' team still won 10 games, it seems natural to think the Tigers could make the leap to title contender again.
Alabama vs. Louisville
There's not a game on Louisville's schedule that Charlie Strong's team shouldn't be favored to win. The toughest game may come in the season finale at Cincinnati.
Most fans would probably be upset to see a Big East program make the championship game, but Louisville proved its mettle in a huge win over Florida in last year's Sugar Bowl.
So if the Cardinals go undefeated, then they will have earned a shot at the championship.
Of course, it won't be easy to get another big win over an SEC opponent. Florida likely overlooked Louisville and there's no way a Nick Saban-coached team will take them lightly.
Alabama's weakness could be that it's so used to being in this game that this team may believe it can just show up and win.
Texas A&M vs. Ohio State
Johnny Manziel vs. Braxton Miller would be a dream showdown between quarterbacks. These two could easily be the top two vote getters in the Heisman Trophy race this fall.
It could also be the highest scoring championship game in history with these two offenses.
Urban Meyer would get an edge in experience, but Kevin Sumlin proved his worth in year one at Texas A&M.
The Aggies would be a new face from the SEC in the title game, but A&M would love to continue the conference's dominance on the big stage.
Stanford vs. Alabama
Look, it's that Alabama team again, but this time they get a Pac-12 foe.
Stanford delivered big-time in 2012 after losing Andrew Luck, and now David Shaw's team believes it can play against the best programs.
The Cardinal would get a serious test from the Tide.
Quarterback Kevin Hogan is a big reason why Stanford could make this type of run. He played huge in big games last year and the Cardinal like to play a physical game.
Of course, Stanford has some big shoes to fill, including for Stepfan Taylor at running back.
What more can you say about Alabama?
Notre Dame vs. LSU
Notre Dame got a little taste of the BCS last year, and the Irish left with a pretty nasty aftertaste.
Brian Kelly is a proven winner and he'll keep Notre Dame at or near the top for years to come. His recruiting has put him in this position, and athletic quarterback Everett Golson is ready to take over the leadership role of this team.
The Irish lost some key parts of last year's 12-1 program and after the beatdown they took at the hands of Alabama, it's hard to believe Notre Dame is really ready for this big stage again.
It's also hard to see how the Irish can catch as many breaks as they did a year ago, so going undefeated again will not be easy.
Oklahoma State vs. Texas A&M
How about this old Big 12 rematch?
You might expect to see Oklahoma against Nebraska or maybe Texas in this game, but the Cowboys may be the Big 12's best shot in 2013.
The offense should be potent again and the defense just good enough. The Big 12 is down a bit this year, so Mike Gundy's team can run the table.
As for Texas A&M, getting through the SEC unscathed is almost impossible, even with Johnny Manziel. The Aggies would love to get a shot at an old nemesis like the Cowboys, though.
Clemson vs. Alabama
Clemson is this year's popular pick as a surprise team to reach the BCS Championship. The Tigers have the talent to navigate the weak ACC, and they have recruited talent that can compete in the SEC.
The offense is loaded with talent, including quarterback Tajh Boyd and receiver Sammy Watkins. If Dabo Swinney can fill the holes on defense, Clemson could be eying its first title since 1981.
Of course, Clemson has to avoid making one of those patented Clemson mistakes in the regular season.
It would also be interesting to see the former Alabama player go up against his alma mater on the biggest stage.
If this game were to play out, who doesn't think Nick Saban would have a field day matching wits with Swinney?
South Carolina vs. Florida State
Sometimes you have to go out on a limb and pick a game like this one.
South Carolina has proven in recent years to be good enough to play with any team in the nation, but Steve Spurrier's squad also loses a game or two it should have won.
If the Gamecocks could put it together this year, and let the defense dominate the way it can…well, South Carolina may get past Georgia and Florida and whoever it plays in the SEC title game.
This would also be Spurrier's second team to play for a title and how much fun would the build up be going against Florida State, a program he once called Free Shoes University?
The Seminoles will start the season with an inexperienced quarterback, but Jimbo Fisher has been stockpiling talent for a few years and should be ready to take it to the next level.
Alabama vs. LSU
An SEC vs. SEC title game seems fitting considering how dominant this conference has been in winning championships.
Of course, no one will be pleased to see these two play again in the same season—just like the 2012 title game rematch.
If we're talking BCS Championships, though, these are two of the best in the BCS era.
Given the nature of this rivalry and the talent on both sides of the ball, it should be a good rematch.